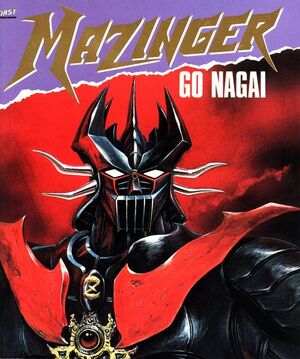 Mazinger, later called Mazinger U.S.A. Version or Mazinger U.S. Version to avoid confusions with the rest of the Mazinger works, is a 58 pages long manga created by Go Nagai specifically for the US market. It features full-color graphics, text in English and left-to-right formatting. It is partially inspired by Gulliver's Travels.
The story is set in the year 220X A.D., after hundreds of years in war that devastated planet Earth. The environment of the planet is so damaged that the fights have to be done wearing special combat armors. A new battle is rising, and the major Kabuto boards his combat robot, Mazinger. In the middle of the battle, Mazinger gets caught in an explosion which creates a wormhole that transports Mazinger into a parallel dimension. In this Earth, immediately after appearing, Mazinger saves a beautiful young woman, princess Krishna, from humanoid reptiles that are about to kill her.
Characters
Edit
Due to the rarity of this comic, it is here for your convenience. To you younger readers, warning there is full frontal female nudity.